Absinthe was illegal throughout most of the world for the past 100 years, including the United States, because it was rumored that its primary ingredient, Grande Wormwood, caused insanity.  This turned out not to be true, and since  2007 (when the ban was lifted), several brands have been introduced in the U.S., spearheaded by Lucid Absinthe Superieure.
While absinthe can be used in cocktails like the Sazerac or Death in the Afternoon, it is normally just taken with cold water, poured through and absinthe spoon with a sugar cube on it.  I personally love absinthe, certainly because of its sordid history, but also because I like the dry, herbal, anise (black licorice) flavor.  Recommended ratios are 1 oz absinthe to 3-5 oz of water, as mixing with water is essential because of the high alcohol content absinthe has, which is  usually 65-75% ABV (nearly double the ABV of vodka).  Without the water, your tongue will numb and you won't be able to enjoy the flavor.
Together with Lucid, I tried 3 new types of absinthe from Viridian Spirits and Jade Liqueurs: C.F. Berger, Jade 1901, and Espirit Edouard, all of which are recreations of 100-year-old recipes.  These will be available in the U.S. in limited quantities for an MSRP of $110 per bottle, and are distilled in France, like Lucid.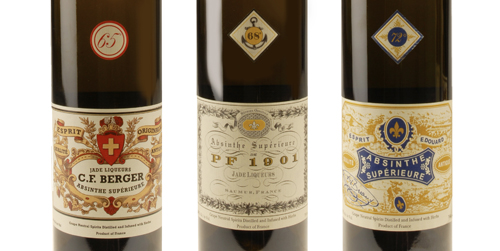 Every one of these three limited edition absinthes is outstanding, and it is difficult to choose a favorite. Any one in particular did not stand out more than another, but the three of them are all excellent and flavorful, and any would be a worthy addition to any absinthe-lover's collection.
Special thanks to KegWorks for the Absinthe Accessories Starter Kit used in this review.  Buy yours here.