Recently, Hydro Flask has added some cool beer-and-spirits accessories to their already-popular line of water bottles. One such product is the 10-oz Hydro Flask "Rocks" cup. Built similarly to their water bottles and growlers, the Rocks is a 10-oz insulated stainless container with a drink-through lid for whiskey-sipping on the move.
I would imagine those who enjoy camping and hiking would throw this cup in their backpacks for sipping during downtime, and low-volume coffee drinkers (espresso, in particular) will likely consider this a godsend.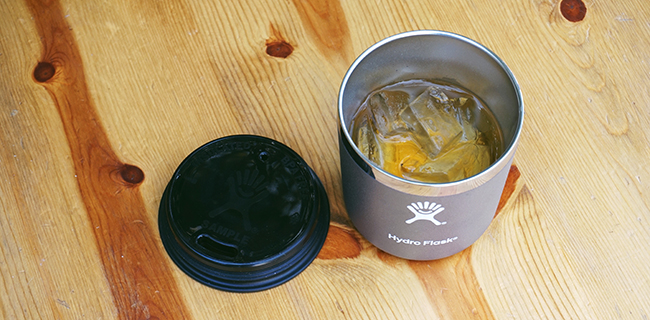 While I appreciate all sorts of drinkware with the quality Hydro Flask design and quality, I'm left feeling like the design of the Rocks is lacking, though. It keeps drinks cold for up to 24 hours, so why not provide it with a leak-proof lid design so you can have your whiskey in the cup as you hit the trails? It's current design requires an additional flask or bottle to transport your booze to its destination before pouring into the cup. Also, even for Hydro Flask lovers, the cost of these cups is a bit prohibitive from building a whole serving set of them at $25 each.
As a non-outdoorsy-person, I've found my best use for the Hydro Flask Rocks cup is on the nightstand for bourbon on the rocks. The non-sweat design prevents glassware rings and avoids the need for a coaster.