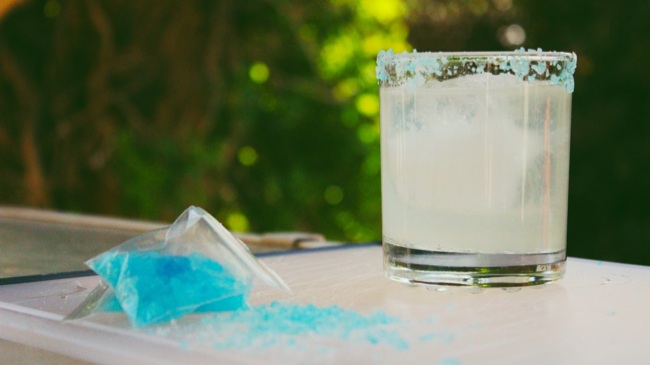 I was talking with someone from out of town recently, and they asked if Breaking Bad has given Albuquerque a bad name, y'know, since it's a TV show about drugs, drug dealers, and violence, and since it proudly mentions that Albuquerque is the place that all of this is happening.
I snickered in my response: Breaking Bad has actually brought a strange local pride to Albuquerque, not shame. There are spas that sell "Bathing Bad" bath salts and soaps. A local donut store has their own Breaking Bad donuts. Local confectioner The Candy Lady sells little baggies of blue rock candy, in fact, they're the company that made the props for the TV show.
It's about time that we (Albuquerque) came up with our own Breaking Bad Cocktail. This is a simple recipe provided that you can find some candy "blue meth." While you prepare to make the drink, crush the candy with a big knife butt just like Tuco Salamanca. Then using lemon juice, rim an old fashioned glass with the crushed candy.
In Albuquerque, Tequila is the second-best selling spirit (just behind vodka), so we should certainly use tequila as the base. Here's the recipe, which is a Tequila Sour with the addition of blue meth candy. That makes it break bad, right?
Breaking Bad Cocktail (by Greg Mays)
fill a "blue meth" rimmed old fashioned glass with ice
in a shaker add:
2 oz tequila
3/4 oz lemon juice
1/4 oz simple syrup
shake with ice and strain into the old fashioned glass
Remember you can subscribe to our email newsletter and download our free Simple Cocktails recipe booklet now!