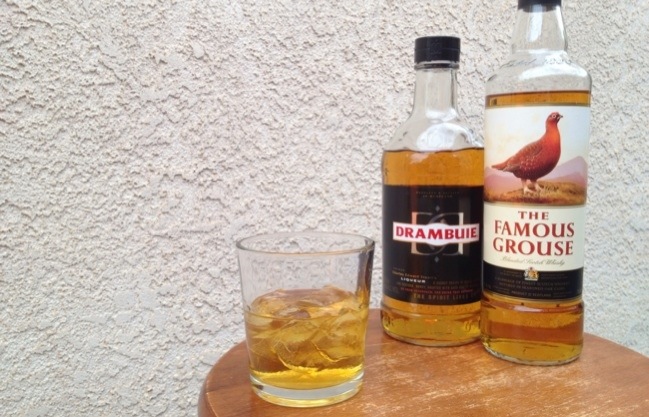 Because scotch is one of the finest beverages in the world, there are very few cocktails that contain it. The general opinion is that you should use lower quality booze for mixing drinks and higher-quality, more expensive liquors should be drunk straight.
Drambuie (dram-byoo-ee) is a liqueur that contains scotch, heather honey, herbs, and spices. It has a bit of an anise flavor and the spices taste great, but it's too sweet to sip it straight. The signature Drambuie drink is the Rusty Nail, which is one of the few scotch cocktails:
Rusty Nail
1 oz Drambuie
2 oz scotch (I used The Famous Grouse)
Serve neat or on the rocks
The nice thing about cocktails like this is that the ingredient ratio can be adjusted easily for the drinker's preferences. Want a sweeter Rusty Nail? Use less scotch and more Drambuie. Drier? Have just a splash of Drambuie in your scotch. Drambuie will run you about $30-40 a bottle.