I just finished reading Gin: A Global History, which I won from 12 Bottle Bar. David and Leslie run the site over there and since Leslie Solmonson's the author, she also graciously signed the book before sending it to me.
This is part of the Edible Series on food and drink by Reaktion Books
, and the series also has books on wine, rum, whiskey, or even cake, sandwiches, and potatoes. They're small books, 8″x5″, hardbacks with matching vanilla colored dust covers, each with a simple illustration. They are usually around 150 pages, and they make great coffee table books. The Gin book  has 140 pages of content and 15 pages of recipes and reference.
Gin: A Global History is a good book and the brevity makes it easy to read and enjoy. The illustrations and images are big and colorful, so the text here is to the point. Just like it's title says, it's a good, concise global history of gin.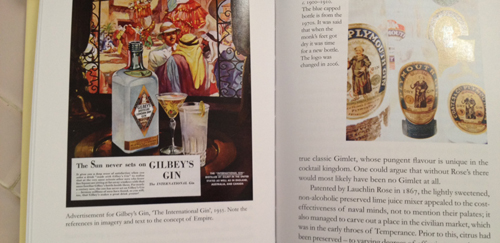 My favorite part is later in the book when the types of gin are compared and described – London Dry's juniper-forward flavor in Tanqueray or Beefeater, the more Americanized citrus-forward gins like Bombay Sapphire or Tanqueray 10, or the new style craft gins such as Hendrick's and Aviation. I've had trouble figuring out why I don't like Sapphire, and this section alone helped me get to the bottom of it.
Gin: A Global History is a great book, and if you like gin it's a must-buy.  Having 10 pages of gin based recipes in the back is a nice bonus, and the first one I'm going to try is the Gin and Tonic Sorbet!
Buy the book here and make sure you visit 12 Bottle Bar.  Their site is very similar to ours in that they aim to make home cocktail making accessible for everyone.