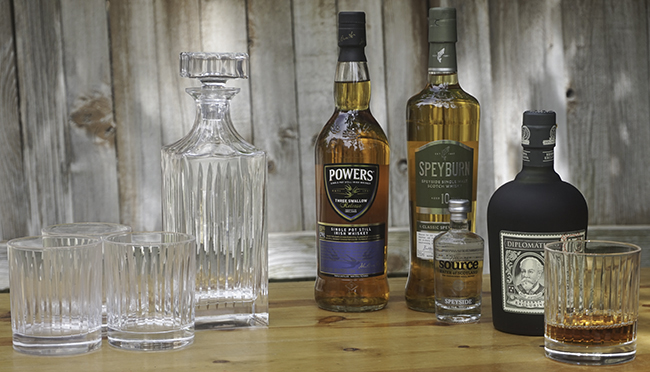 Depending on your dad, Father's Day gift-giving can be a lot of fun or a chore. For me, some tasty whiskey and drew estate cigars is about my favorite way to celebrate. If you are still looking for ideas, though, I have a few that might earn you the "favorite kid" title this year. Try these gifts out!
Packaged in a handsome wooden gift box, this decanter set is 100% crystal, not cheapie glass (note there are no seams in the tumblers or decanter). Styled in a sharp art-deco-inspired design, the decanter will hold a whole bottle of whiskey, and the wide, hefty tumblers feel great in the hand. Door58 has generously offered a discount for our readers (until June 15, 2019) of 20% off this set! Just follow the link about and enter the code 20DADBLOG at checkout.
Powers Three Swallow Irish Whiskey. $40
For those of you who haven't experienced much Irish whiskey, you're missing out. The sweet notes of bourbon and the richness of Scotch make Irish a taste all of its own. This is a fairly new expression of Powers that's only been available in the US for a few months, so if you see some, pick up a bottle for dad.
Speyburn 10 (gift set). $30
To me, Speyburn is one of the best buys in single malt scotch. Often $30 and sometimes as low as $20, it's an easy brand to keep around. In this case, my bottle of Speyburn came boxed with a bottle of "Source" – Scottish water designed to accompany Highland whiskys like this one. You serve your Speyburn neat, and give it a small dash of Source. A fun idea and perfectly affordable.
Diplomatico Reserva Exclusiva Rum. $45
If dad wants to venture out into aged rums, then a nice one like Diplomatico is the way to go. With both tropical and woody notes, aged rums sometimes match the terrior of cigars, for instance, or even coffee. If dad like stogies or adds a splash of liquor to his coffee, have him try Diplomatico.
Enjoy your Father's Day this year! Cheers!