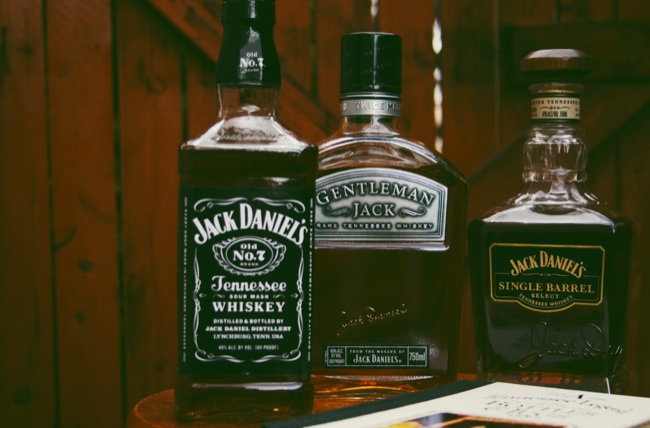 Welcome to a series at Simple Cocktails called Walk the Line, where I explore the entire product lines of the most popular liquor brands together with a panel of friends and tasters. I realized in a recent visit to the liquor store that there are some huge brands with different versions of their liquors, and I wasn't really sure which was the best, or why, or how they differ from the flagship brand. I'm sure that there are others who feel the same, so let's Walk the Lines of these brands together. Click here to view the entire Walk the Line series.
---
While it almost seems silly to begin with something as familiar and iconic as Jack Daniel's whiskey, some people take this brand for granted in spite of its rich and fascinating history. We tasted the 3 primary expressions of Jack Daniel's Tennessee Whiskey. Here's the breakdown:
Jack Daniel's Old No. 7. The flagship black-label Jack Daniel's has been distilled for over 100 years. Jack differentiates itself in the market by being a Tennessee Whiskey, filtered through 10 feet of sugar maple charcoal before it's aged in barrels. It had been a while since most of our tasters had Jack on it's own, and we admittedly expected to be tasting "cheap whiskey." Old No. 7 pleasantly surprised the panel with it's quality, though, especially for $20 a bottle. This flagship Jack has a familiar sweet corn flavor and a smooth, lingering finish.
Gentleman Jack. Introduced in 1988, Gentleman is the mid-range Jack. The recipe is the same as with Old No. 7, but this version is charcoal mellowed twice: once before and once after barrel aging. Gentleman Jack is sweeter and smoother than Old No. 7 because of the double mellowing, and the tasters really liked the flavor and price (about $30) of this one in particular.
Jack Daniel's Single Barrel Select. This is the premium Jack Daniel's product. While it's life begins the same as the other Jacks, Single Barrel Select is chosen from the top barrels in the aging house at the distillery.  Those barrels experience the biggest temperature fluctuations, and as a result Single Barrel Select has a complexity that warrants the  higher-priced bottle (about $45). This whiskey has a rich color, and the tasters all smelled traces of maple syrup, though the flavor is not as sweet as it's little brothers. Bottled at a higher alcohol content than the others, tasters felt Single Barrel Select is much more of a serious sip and should share the shelf with other high-quality American whiskeys.