I've made it a habit to assemble Christmas gift ideas every year to make you aware of some nice cocktail-related products that are out there. Last year, I included other items into one big gifts for guys segment. The gifts you see in the list below get progressively more expensive as you scroll down, or you can pick some of each for your favorite man (or yourself). Here are my ideas for 2014.
Stanley cocktail flasks.
With some of the best made thermoses and camping gear you can buy anywhere, Stanley has a pretty awesome collection of cocktail-on-the-go accessories, including flasks from 5-12 oz and a cool set of travel shot glasses. Each of these will run you right around $20 from your favorite sporting goods store or from Stanley direct. Make sure you check Drink Spirits' list of best spirits to sneak in a flask if you need some sneaky ideas.
Beard stuff.
Now that No Shave November is over, some guys have put their face blankets away until next year. I usually grow my soup-saver from November through the holidays, though, so I'm needing to wrangle my facial hair now. BeardBrand has a whole line of beard oils, mustache waxes, and beard combs/brushes. Oils range from $15-30, or you can spring for a whole assortment of products the Explorers Kit ($115), which is pictured above.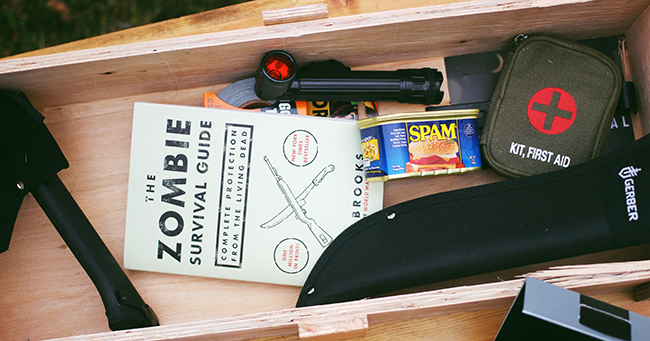 ManCrates.
When I showed off my new ManCrate to a friend, he said "I love opening crates!"
Me too, bro.
ManCrates has a whole line of dude-specific products that come ready-to-open with a crowbar. With crate categories like meat, sports, and zombies, just pick the interest your man has and buy a crate. I chose the $140 Zombie Suppression Crate, which includes weapons, a flashlight, a first aid kit, Gorilla tape, Spam, and Max Brooks' Zombie Survival Guide. Crates range from $25 to $200-plus.
A smart watch.
Smart watches are a relatively new thing, both in their style and usefulness. I've become really fond of the Cogito Classic smart watch, which connects with bluetooth to your iOS or Android phone. It's available in several colors, and they're distinguished from other smart watches I've seen because Cogito had made a sexy high-end analog watch….which includes a few bluetooth notification features. It's style first, then function, and that's an important distinction for some people. There's a free app to manage your notifications and software updates, and battery life is stellar, too: my Cogito runs over a month on a standard watch battery. You can buy the Cogito Classic from Amazon for $180.