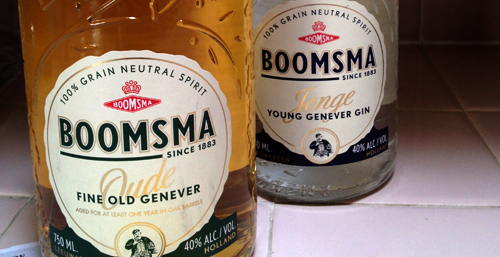 Genever (or jenever), pronounced "YUH-nee-vur," has it's roots in the Dutch word for juniper, as that's the primary botanical in it, similar to gin. Genever is the most popular spirit in the Netherlands. There are a few brands of genever available in the U.S.: Bols and Boomsma, and American-made "genever-style" Genevieve, but only one is currently distributed to New Mexico, and that's Boomsma.
There are two types of Boomsma Genever, jonge and oude, and they're very different from each other. Wikipedia summarizes it great: "Jonge genever has a neutral taste, like vodka, with a slight aroma of juniper. Oude genever has a smoother, very aromatic taste with malty flavours. Oude genever is sometimes aged in wood; its malty, woody and smoky flavours lend a resemblance to whiskey."
I made the mistake of expecting genever to be like gin when I first opened the bottles. Like it says, there is a light aroma of juniper to the jonge genever, which I smelled when I first opened the bottle, but that was it. After tasting the jonge genever, it was very much like vodka, with a very faint hint of herbs. The oude tasted a lot like American whiskey, which was frankly pretty alarming for me as I'm normally not a fan of American whiskeys.
Once I got over the fact that I was not dealing with gin (it took me 2 days), I made a Holland Martini with the jonge genever. It was really good, and unique enough that I'd recommend it as a herbal alternative to a vodka martini:
2 oz jonge genever
1/2 oz dry vermouth
olive garnish
stir, strain into a cocktail glass
I also found a recipe to use the oude genever in the Holland Razor Blade:
2 oz oude genever
¾ oz lemon juice
¾ oz simple syrup
shake, strain into a cocktail glass
sprinkle a pinch of cayenne pepper over the top
Surprisingly, the Holland Razor Blade was good and very easy to drink.  I didn't like the taste of oude genever straight, but it worked really well in a cocktail, just like the jonge.
I would ultimately describe genever as a botanical/interesting alternative to vodka and whiskey, but not much of a gin alternative. As a bartender, genever is a great tool for some variety in your cocktails. As a gin lover, the jonge will give you an occasional alternate flavor to London Dry, but will not ultimately replace your Tanqueray.
Boomsma Oude and Jonge can both be found in Albuquerque at Jubilation Wine & Spirits.