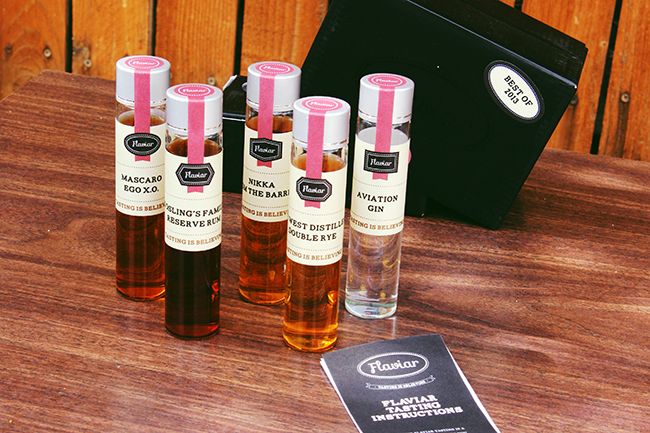 At Simple Cocktails, I get tot taste a lot of different liquors, but most of you don't have the same opportunity. One option for trying a lots of different liquors (without going broke) is to subscribe to a tasting service like Flaviar.
Flaviar has developed tasting kits that you can either subscribe to or purchase individual packs. Monthly memberships are about $40, and individual tasting packs run $30-50. Each pack includes five 1 1/2 oz vials of liquor and instructions for tasting them. The packs are measured for 3 people to each have a taste, and the box includes a small instruction and tasting notes brochure.
I received Flaviar's Best of 2013 pack, which includes Aviation Gin, High West Double Rye, Nikka Whisky from the Barrel, Gosling's Family Reserve Rum, and Mascaro Ego XO Brandy. From what I can tell, the packs regularly include hard-to-find and high-quality liquors like these.
I think Flaviar is an interesting choice for tasting spirits without having to commit to a whole bottle (the Gosling's Rum alone would run you $70). In Flaviar packs, you'll taste a wider range of liquors than you would if you went to a store and bought a handful of miniatures anyways, and a tasting is a fun experience to have with guests at your home bar.