I had the pleasure of taking the VIP tour at Santa Fe Spirits in Santa Fe, New Mexico.
Santa Fe Spirits distills unaged Silver Coyote Whiskey, Expedition Vodka, and SF Spirits Apple Brandy.  They have been in business since Spring of 2011 and plans are in currently the works for gin and single malt whiskey, too.  On the day I went, I had the pleasure of meeting everyone: the owner Colin, their distiller Nick, and their all-around good guy Sean.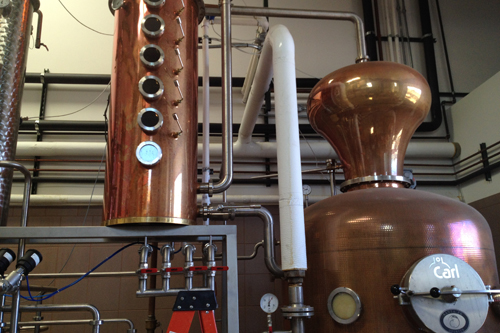 Sean served as my tour guide and showed me the distilling equipment and warehouse.  Everything is distilled at least twice, with the vodka going through 6 cycles of distillation.  Malt is the basis for their whiskey and corn is the basis for their vodka and both are distilled very traditionally.
The first batch of Apple Brandy is sold out there at the distillery (though you may still be able to pick up a bottle at a New Mexico Trader Joe's) and they were in the midst of aging batch #2.  It's made in the traditional calvados style and the genesis of it was in Colin's backyard apple orchard.
I did, however, have the opportunity to try Silver Coyote Whiskey and Expedition Vodka (both are great).  Sean is very knowledgable and between him and SF Spirits' distiller Nick, I had all the information I could want.  Nick told me about their future plans for distilling gin and gave me tastes of some botanicals for that, too.
It's important to note that their Silver Coyote Whiskey is unaged, which means it's a clear whiskey, and very unique.  It tastes like whiskey for sure, but as Sean described it, a whiskey drinker may or may not like it, and folks who usually like clear spirits tend to like it quite a bit.  I agree as it's the best whiskey I've had yet, and I'm a gin lover.
Sean also served me a bit of their barrel-aged Manhattan, which they can serve you when you go to Santa Fe Spirits for cocktails.  Bitters, sweet vermouth, and Silver Coyote in a little mini-barrel makes an outstanding cocktail and I made myself one at home, too, to make sure I was right about how good it was.
All in all, it's a treat to visit SF Spirits, and the team there is stellar at what they do. I have found their whiskey and brandy at Trader Joe's in Albuquerque and you can search nearby places to buy their products by clicking here.