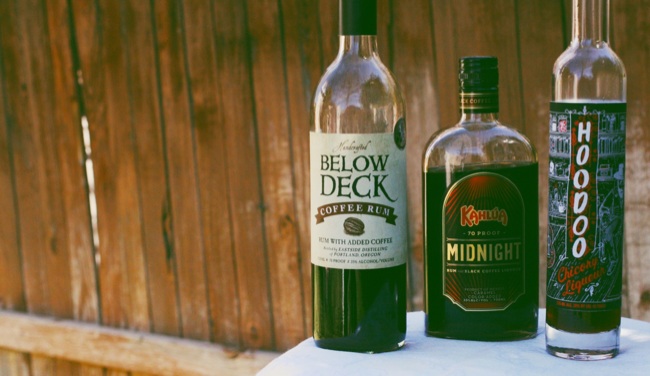 A few new coffee liqueurs are hitting the market, and I got to try them. Below Deck Coffee Rum retails for $18, Kahlua Midnight for $22, and Hoodoo Chicory is $24 for a half-sized bottle  (375 ml). Other than the coffee connection, these are all pretty different products.
Below Deck Coffee Rum is from Eastside Distilling in Portland, and it shows. Marketed as coffee rum rather than coffee liqueur,  Below Deck smells like your favorite corner coffee shop. This is a strong drink (70 proof), and while I tried mixing it in traditional coffee liqueur cocktails like a White Russian, I found Below Deck tasted the best on the rocks with a splash of cream.
Kahlua Midnight. The replacement for Kahlua Especial, Midnight is very much a Kahlua product. It has the iconic Kahlua flavor, but with less of the syrupy characteristics you find in standard Kahlua. It's a stronger drink, too (70 proof), and much like Below Deck, it's less mixable as a result. White Russians were too strong and unbalanced with Midnight, and I realized that Midnight and cream was the best fit here, too.
Hoodoo Chicory Liqueur. Made by the same folks that make Cathead Vodka, Hoodoo is closer to a traditional coffee liqueur. It's lower proof  (40), so it's a better fit for coffee cocktails. Chicory is a root that's often used as a coffee additive or coffee substitute, particularly in the South, and as a result, Hoodoo is more herbal-tasting than the other here. Anyone familiar with New Orleans-style coffee will recognize the rich flavor. I took Hoodoo's recipe for a Café au Lait, converted it up, and made a thermos full of it for a party:
Thermos of Café Au Lait

10 oz Hoodoo Chicory Liqueur
12 1/2 oz warmed milk
25 oz of strong brewed coffee
while brewing the coffee, warm the Hoodoo and the milk on the stove over low heat, stirring constantly
once hot, pour it all into a big thermos like this one (Amazon link)