I love to drink my whiskey with a single, rough-cut ice block (I call them icebergs). It makes me proud when I serve a drink at my home bar and someone asks "did you make this ice?" I realize that's borderline crazy, as making ice involves nothing more than freezing water, but I know you other home bartenders also take pride in the details, like getting your liquors and garnishes just right, so here's a step-by-step guide to how I make my icebergs:
Step 1: add about 2″ of spring or distilled water in a breadpan and freeze overnight.
Step 2: once frozen, run the breadpan under cold, then warm, then hot water to break the ice free.
Step 3: Lay your ice block on a cutting board. Put a towel under it to tame the shrapnel.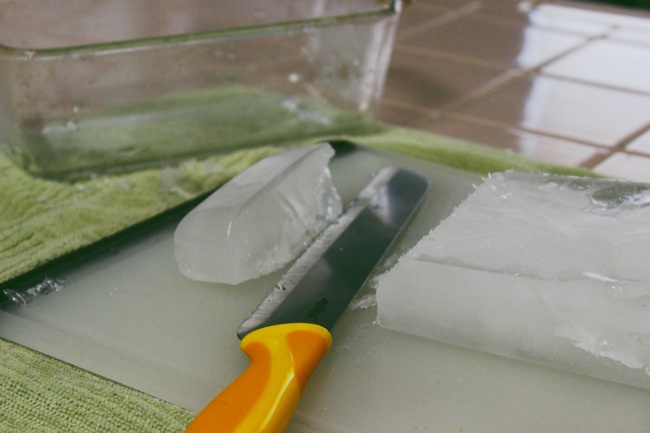 Step 4: I've tried a lot of ways to do this, including ice picks, scoring lines in the ice, or gently chopping in the ice with a knife. I've found the best way is to just chop it in one blow with a really sharp knife, samurai-style.
Step 4, continued: keep chopping the ice into blocks until you're satisfied with the size. As you can see, I usually get about 7 or 8 big ice blocks that are 2-3″ and a few other scraps that I use in Gin and Tonics.
Step 5: store in a plastic container in the freezer. I use semi-disposable food storage boxes like Ziploc or Rubbermaid. Enjoy your ice blocks!