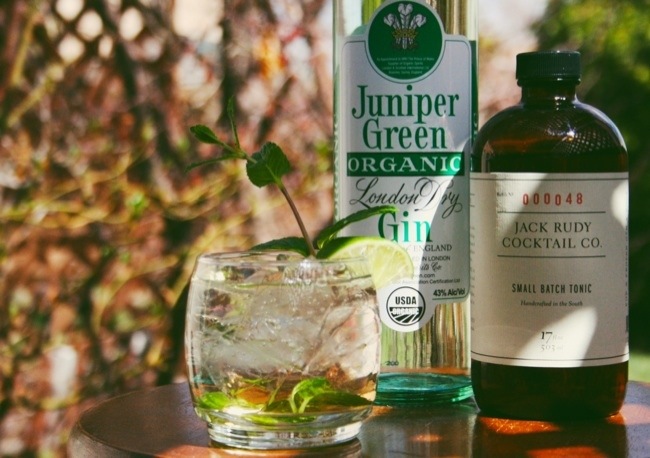 "In addition to being a marvelous dancer, Jack Rudy loved to entertain and was known to overindulge in drink, smoke, and his wife's gourmet cooking."
My first cocktail order at a bar was a "vodka martini: shaken, not stirred," which is pretty embarrassing in hindsight. I actually said "shaken not stirred." Sigh. I can thank the Gin and Tonic for setting me on a course to enjoy more classically-styled cocktails, though, and I've found G&Ts to be a pretty accessible drink for most people.
As you may gather from my occasional ramblings here at Simple Cocktails, I like things a certain way: fresh, natural, and enjoyable. I think it adds to the pleasure of cocktails and make home parties better. I avoid high fructose corn syrup, which means that the grocery-store tonic water like Schweppes or Canada Dry never make an appearance in my home bar. Hansen's Natural makes Tonic (Amazon link), which I've been stocking in my bar for several months, but it's too sweet for my taste.
All of that considered, I recently made the best-tasting Gin and Tonic that I have tasted. Here's the recipe:
 Gin and Tonic
in a 10 oz glass filled with ice, add:
1 1/2 oz gin
1/2 oz tonic concentrate (see below for info)
top with club soda
lime wedge garnish
optional: add some mint leaves and a mint sprig
Now the individual components of this particular G&T include Juniper Green Organic Gin and Jack Rudy Tonic. Juniper Green has a touch of sweetness and a fresh, minty, herbal flavor ($33 a bottle). Jack Rudy is a traditional tonic that comes in a cool apothecary bottle ($32 for 2- 17 oz bottles). Jack Rudy has now spoiled me on tonics as it isn't overly sweet and has more quinine/bitter flavor.