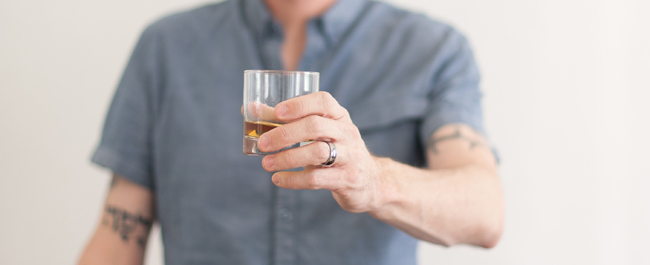 Sometimes you just have to ignore the experts.
Part of a booze writer's job as an "expert" is to teach you things about liquor and drinking. I've written posts about how to serve absinthe, how to make an Old Fashioned, or how to make a Martini at this very blog. Here's a sampling of what you will hear us say from time to time:
Never put ice in scotch.
A Martini is made with gin. If you make the drink with vodka, it's called a Kangaroo. And don't shake a martini either.
Never muddle fruit in an Old Fashioned.
Make sure you buy tequila that's distilled from 100% Weber Blue Agave.
Flavored vodkas are the scum of the earth and we'd all be better off if we could purge them.
I'm writing this post to tell you that just because we might have more booze wisdom than your everyday drinker, we do not have the right to tell you that if you're not doing our way, you're wrong. Just so you know, I've broken lots of drinking taboos in my life. I drank brandy on the rocks once. I used to regularly drink Vodka Martinis, shaken, not stirred. I make my Old Fashioneds with a splash of club soda. I even tried Fruit Loop vodka once (who wouldn't?), though I rewrote my post on it several times because I was worried about my rep with the Cocktail Elite.
So if you have a favorite drinking practice or recipe that us "experts" disparage, ignore us and do it your way! Do you like ice in your scotch? Awesome. You think Jagermeister and Red Bull is a "cocktail?" Enjoy. How about a glass of Brown Wine (Jim Beam and Coke)? Go for it.
My girl Mrs. Simple Cocktails has a favorite "martini" recipe that calls for 2 oz vodka, 3/4 oz of olive brine (you read that right), and a splash of vermouth with 4 huge olives as a garnish. I make them for her all the time and I don't preach at her about how she's really drinking some sort of a Bastardized Kangaroo, not a martini, because she likes the damn things and she can call them what she likes.
So from one member of the Cocktail Elite, you should drink what you like, how you like to drink it. We may have strong opinions on booze and drinking practices, but that's because we drink a lot of it and we're probably cocktail history freaks, too. We may think you're nuts for using sour mix instead of squeezing real citrus. We might think that a shaken martini is sacrilegious, but who cares? There are a plethora of bottles on the store shelves and there's something in them for every type of drinker, even one who likes Donut Vodka (how dare you?).
Here's my girl's recipe again for those who dare try it:
Mrs. Simple Cocktails I-Can-Call-It-What-I-Want Martini
2 oz vodka
3/4 oz olive brine
splash of dry vermouth
shake on ice and strain into a chilled cocktail glass
garnish with 4 olives on a pick